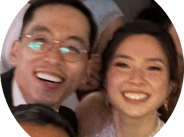 Joey & Melissa
East Bay, Ca
Mike and Nola did an amazing job at our wedding! We had our ceremony at a separate location than the reception, and they made it work with promptness and professionalism. The music playlist was amazing and the dance floor was never empty during the entire night. Mike helped my husband and I with our wedding timeline and met with us over Zoom on multiple occasions to really nail down the events of our special day. He even had some suggestions that we incorporated during our walk-in as husband and wife! Overall very pleased with the service and such a fun duo:)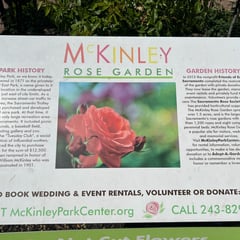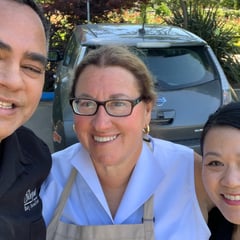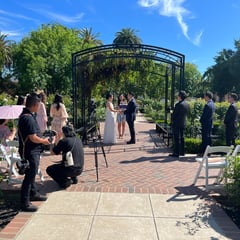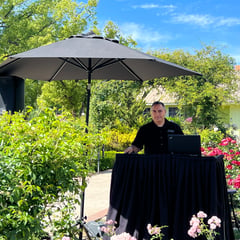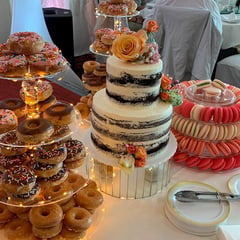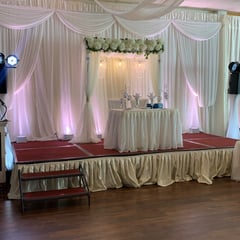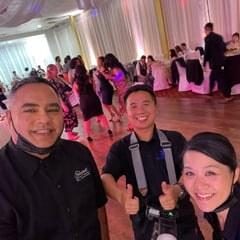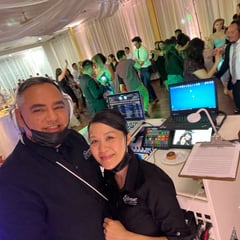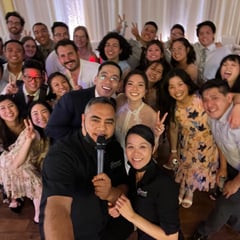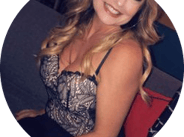 Joey & Melissa
East Bay, Ca
Shout out to Mike for making our wedding day amazing! We had such a great experience with Mike in planning our wedding day. From our first conference call all the way up to and including our wedding day, Mike made us feel at ease. Mike came out to view our venue in advance of our Wedding to discuss and view the set up requirements and equipment he would need to bring that best fit our venue. I thought that was great and was a great way to put us ease as we could see that Mike wanted our day to be as perfect as much as we did. We had @ 3-4 conference calls leading up to our day to discuss our overall all Ceremony and Reception as well as day of schedule and music selection for each stage of event. Mike was great at suggesting things to help keep our event upbeat and guest having fun which we really appreciated. His expertise and desire to ensure our day went perfectly shined though during every interaction with Mike. If you want to have a flawless and fabulous event, I suggest using Mike as your Master of Ceremonies. Thanks Mike, you hold a special place in our heart for making our wedding day epic!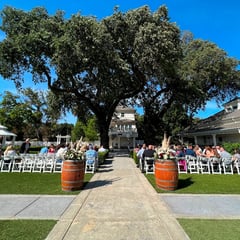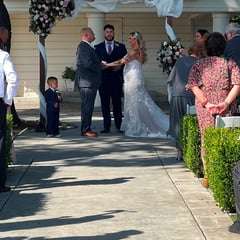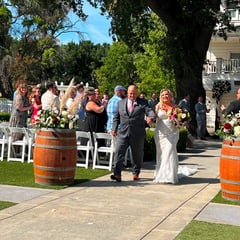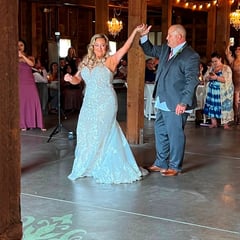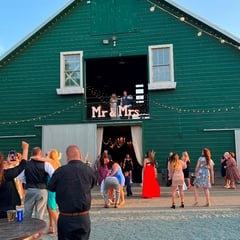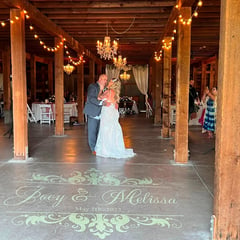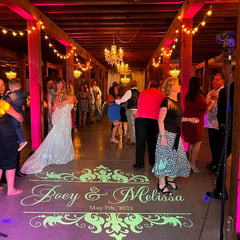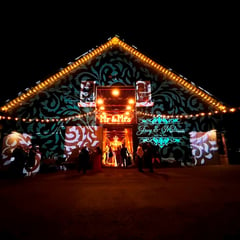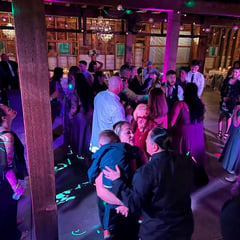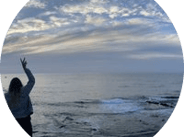 Emely & Johnathan
Roseville, Ca
I highly recommend Mike!! He offers packages to fit any budget. His commitment to get the job done was amazing. He did an incredible job for our wedding. I wouldn't change a thing. The photo booth was a great way to capture moments we didn't get to catch with all our guests. He also helped us with the lighting and provided a projector for our gender reveal. Down to the last detail he got everything perfect and most importantly kept the crowd alive and going! He definitely over exceeded my expectations and I would hire him again in a heartbeat!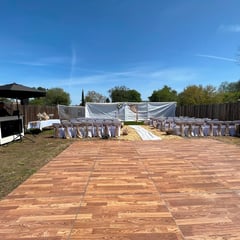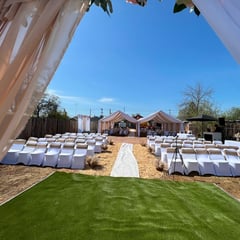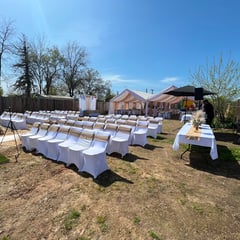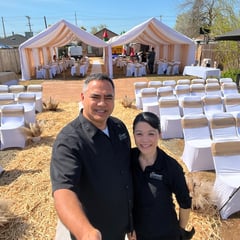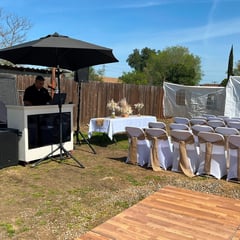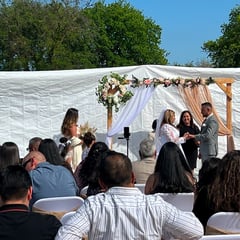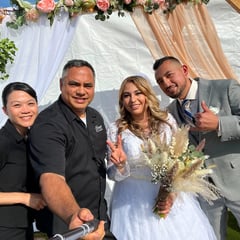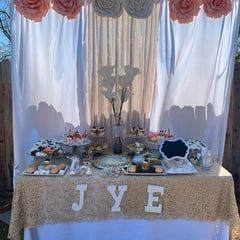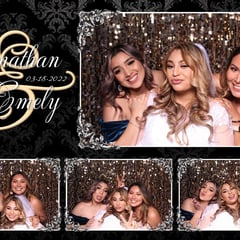 Paul & Leyna
San Francisco, CA
DJ Mike and his team did a phenomenal job and we highly recommend them! We hired Mike as our DJ/MC for our wedding and really enjoyed working with him. Leading up to our big day, we met in person 3-4 times and came up with many creative and fun ideas to incorporate into our agenda. He's very responsive and accommodating. Fairly mellow in person, but the day of the wedding, he really took control and was able to get the entire crowd engaged. Mike was the perfect fit for our wedding crowd bringing the right level of energy. We even had elderly folks still dancing and closed out the night at 11:30pm - guests were having so much fun and did not want to leave!

We cannot emphasize how important it is to hire a good DJ/MC. Day of the wedding, we were so busy running around and greeted by our guests, so it's critical to have a DJ/MC who can run a good show and incorporate all of the items on your agenda during the ceremony and reception. There were a few minor hiccups day of (mostly timing, normal for any wedding), but overall we couldn't have asked for a more perfect day. We purchased the full package and pricing was fair compared to others. We were impressed with Mike's custom designed monogram, uplighting, sound system, recommended song list, and photobooth. DJ Mike and his team are a one-stop shop! Follow him on Instagram so you can have a better sense of his style. If your visions are both aligned, he will be a great person to work with. Good luck!
























Josh & Shannon
Sacramento, CA
We had Elegant Mobile Events provide DJ and Photo Booth services for our event, and they were amazing! Mike was absolutely awesome! Not only was he really great to work with, but his setup and the quality of his services were outstanding. His entire DJ booth, including lighting, custom logos, projector screen, photo booth, and music videos to the songs playing on the screen, were all absolutely awesome. He really kept the crowd going! He was patient and easy to work with, and absolutely knows what he's doing for a wedding. Highly recommend hiring Mike for your next event!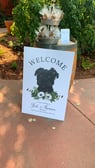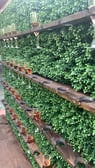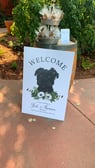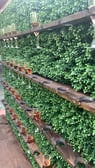 Rich and Addy
San Diego, CA
Mike from Elegant Mobile Events was the DJ for our wedding and he did an amazing job! He was with us throughout the entire process from beginning to end and was super accommodating throughout. As we started planning, Mike provided great suggestions for fun things we could do during our big day (i.e. transitions, games, etc.). He was willing to have multiple meetings with us and worked hard to accommodate special requests and late changes. And then of course, he did a great job during the day of. He kept the energy up throughout the day and threw an amazing party to end. I would highly recommend Elegant Mobile Events for any event!
























We hired Mike and his team for our High School Senior Ball and he was amazing. Not only with his performance the evening of, but in the months leading up to our event. Mike was a professional, organized, prompt and creative. One of the reasons our event was a success can be directly attributed to Mike and Elegant Mobile Events. Thank you Mike!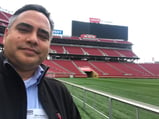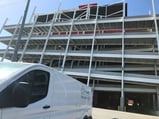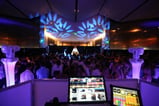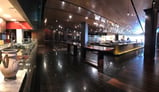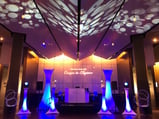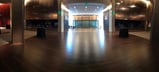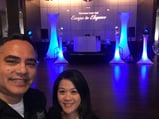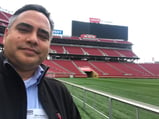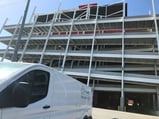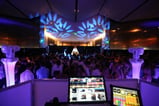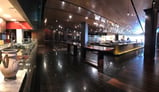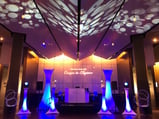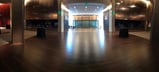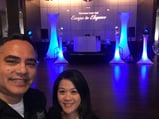 David & Jenny
Sacramento, CA
My wife and I hired Mike (Elegant Mobile Events) to DJ for our wedding at Santa Clara University!! Mike and his team were so wonderful, they provided excellent DJ services and made for such a memorable day! We would highly recommend his DJ services to anyone. If anyone is having their wedding at Santa Clara University he is well experienced with that venue!!!!

Mike did so many things well that it would be hard to name them all! He arrived a couple hours prior to when his services were needed to give himself enough time to properly setup. My wife and I also worked hard on our music selection, which we shared with him prior to our wedding. He perfectly catered to our song requests and Mike even helped give us an idea for our grand entrance! Overall so many of our 100 guests told us after our wedding how great the music was the entire night!!! The dancing was clearly a highlight of our wedding for us and guests. Mike knows how to excite guests and get everyone moving/dancing. We were happy to see so many guests on the dance floor throughout the night.

In addition to his DJ services he provided us with up-lighting and a monogram, which were great! He also provided us with an edited DJ short video, which we enjoyed watching. Finally Mike is easy to work with, listened well to our song requests, came prepared for his job, and treated us professionally. Well done Mike, thanks again!!!!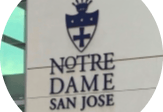 Thank you SO SO much for Friday night. The kids LOVED you guys and they had an absolute BLAST. Your lighting was amazing and all of the chatter I hear from the students so far has been so positive about the music. You guys were a huge hit :)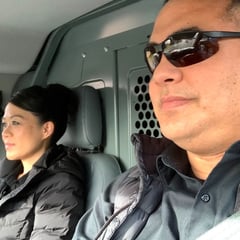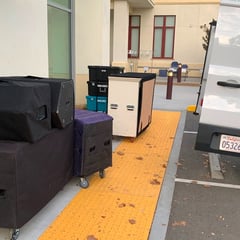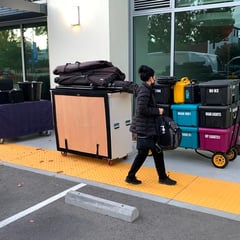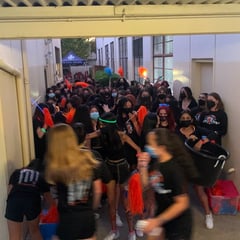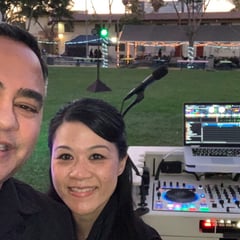 Stephanie & ​Miles
San Mateo, CA
Mike was our wedding DJ and MC this past March and he did an awesome job. He is super responsive with emails and answers all your questions. We had a couple of chat sessions prior to the wedding to ensure we were all on the same page regarding order of events, song selections, and name pronunciations. He also did a great job with our up lights and dancefloor lighting as well. He is very professional, easy to work with, and reliable. We highly recommend him!




























Sonya & Chanda
San Jose, CA
It was about a month shy away from my wedding, and was in dire need of a strong DJ. The size of my wedding would have required someone who was organized, punctual, and adaptable to rapid changes. I landed on Mike's page while reading reviews on Yelp, and I can honestly say that I got really lucky.

Our initial phone call was of a typical consultation where Mike described his services and pricing. After exchanging ideas and an in-person meeting, we decided that we would hire Mike as our DJ and wedding moderator. He served as our DJ for our morning ceremony, and was our hype man for our reception later that day.

I warned him that the crowd he was about to witness was not his regular "well-behaved" group of people, but rather really loud party-goers. He was enthusiastic, and seemed very comfortable with any level of chaos (the day of the wedding proved this to be fact). We had over 450+ guests at our wedding, so you can imagine what Mike was about to get himself into [smiley face].

I'm going to iterate a few times throughout this testimonial, but Mike is truly what everyone makes him out to be in his reviews. He was very prompt and responsive through emails and text messages, and answered every single question with poise and honesty. He sent me a timeline template that helped us draw out our wedding activities by the hour -- it was the perfect visual for all involved.

Mike went above and beyond all of our expectations. He showed up at our rehearsal, and played the songs we selected for our bridal party to practice walking down this aisle. He was very patient and offered suggestions throughout it all! He also helped us with lighting for our reception, and even designed our monogram for our dance floor. Additionally, Mike helped us blend our music for our reception to include hip hop dance music, and traditional Cambodian dance music -- that dance floor was filled up all night!

Do not let Mike's calm composure fool you. As you are working with him up to your big day -- he comes off as a reserved and extremely mellow person but once he is in action, it's night vs. day. His wife is super sweet and is his right-hand wing woman the day of the festivities. She offered help when able, and was equally as easy to work with as he was. They make a remarkable dynamic duo.

Mike's pricing is affordable, but not your traditional DJ pricing because he is truly exceptional at this craft. His talents are beyond what we expected, and we wholeheartedly endorse him for your next big event. You won't be let down!




























I had the pleasure of working with DJ Mike for our wedding and it was such an amazing experience I don't know where to begin. In short: the DJ set was the best I've experienced at a wedding, the photo booth was stunning, his lighting set-up changed a simple charming room into an epic party room, and his 3 different DJ set ups let us have projected music at the ceremony, reception dinner, and the dance party of a lifetime - I couldn't have asked for a better or more professional experience. For more details, read on...

I suppose I should start with Mike as a DJ. Mike got the dance party started before the reception even began. The bridal party happened to gather before the reception dinner and all of a sudden Mike turned up the music and hit a great song and all of a sudden it was a spontaneous dance party. After the reception we began the dance party and the dance floor was packed and grooving until the venue required us to turn off the music. So many of my guests came up to me and said, "Can you connect us with this DJ or his playlist - this is the Best dance party we've ever been to". Throughout the evening - Mike read the crowd and mixed between old school music that got parents dancing, to new hits that had all the young people jumping to the ceiling. He also had brilliant suggestions that manifested into totally unexpected moments. We ended up with a 200 person conga line that stretched throughout the dance floor, snaked outside, and wound back in.

However - the DJ portion is just one of the fantastic things Mike had to offer. We decided to add a photo booth to our wedding reception. I've been to lots of wedding with photo booths - and it doesn't do Mike's set-up justice to even use the same terminology. The set-up is large and gorgeous that had enough space to fit 6 people comfortable (or 12 if you're friendly). The images were displayed on a beautiful 40+" screen that allowed all the guests to see the amazing photos. In addition to being great keepsakes for guests - the digital copies make for great additions to our wedding photos that we'll treasure forever.

When I asked Mike to be our DJ I didn't even think about lighting for the dance area. He has the ability to set up his own lights and they totally changed the feeling of the room - absolutely worth doing. Not only do the colors make for a great decoration, they also change throughout the evening to make the party really feel like it's pumping.

Mike brings an ease and professionalism to weddings that allowed us to have the perfect wedding. He set up in 3 different locations: The wedding itself for music, mics for the officiant and groom, and also for performers; The reception for toasts and background music; and of course the dance hall. Mike is an all in one who I can't recommend highly enough.